LIC or Life Insurance Corporation of India is the largest insurance company in India with a massive customer base. The company provides a range of policies to cater to the diverse needs of its customers. Once you have purchased an LIC policy, it is essential to keep track of your policy status regularly. Checking the status of your LIC policy is now easier than ever, with several options available both online and offline.
Check LIC Policy on Whatsapp
To check your LIC policy status on WhatsApp, follow the steps below:
Save the LIC WhatsApp number: 8976862090 on your phone.
Open WhatsApp and search for the saved number.
Start a new chat with the LIC WhatsApp number.
Type "Hi" and send the message.
You will receive an automated response asking you to select your preferred language.
Reply with the number corresponding to your preferred language.
Next, you will receive a menu with different options. Type "1" for policy-related queries.
You will be prompted to enter your policy number.
Type in your policy number and send the message.
You will receive a message with your LIC policy status.
Apart from Policy status you can get further details on Whatsapp. These are the list of services you can get direcly on Whatsapp.
Premium due
Bonus Information
Policy Status
Loan eligibility Quotation
Loan repayment quotation
Loan interest due
Premium paid certificate
ULIP – Statement of UNits
LIC Service Links
Opt In/Opt Out Services
Note: Make sure to keep your policy number handy before initiating the chat on WhatsApp.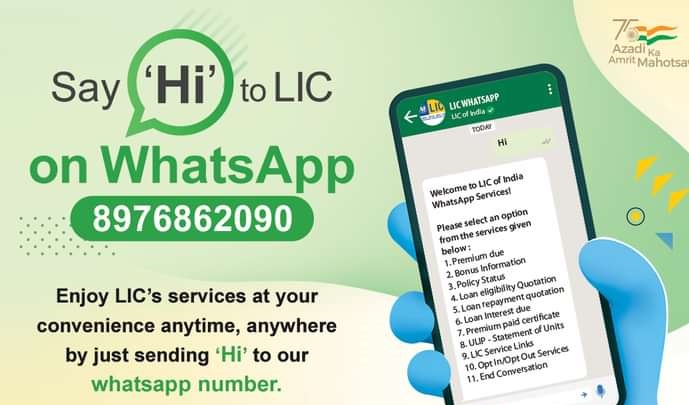 Option 1: By SMS
If you want to check Individual policy details through SMS then Type:
ASKLIC < POLICY NO > [PREMIUM/REVIVAL/BONUS/LOAN/NOM] and Send it To 56677
For Further details on SMS service refer: Policy Status on SMS
Also Read: Check Current Value of your ULIP Policy
Option 2: LIC Policy Status on phone
You can call LIC customer care no. 1251 form MTNL/BSNL to check LIC policy status on phone.
Also Read: LIC Helpline Number of your city
Option 3: Check LIC policy Status online
To check your policy details online, you need to register on the LIC website first.
Step 1: Register:
Register yourself on the LIC website Using this link http://www.licindia.in/NewUserRegistration.htm
Step 2: Enroll your policy:
The next step is to enroll in your policy by entering your Policy number, Policy holder's name, and Premium amount. You can add any number of policies in your account as long as you are the proposer or life assured. After completion of the above step, you need to take a printout, sign it and submit it to your nearest branch. You should have at least one policy in that branch.
Step 3: Policy status online
After the branch validates your policy, you can check your LIC policy status online anytime. Apart from policy status, you can also check the next premium due, loan, surrender value, revival, etc.
Option 4: Visit your Branch/Agent
If you are unable to check your LIC policy status online or through any other means, you can visit your nearest LIC branch or agent. Your agent is your first point of contact for all your policy-related needs. It is their responsibility to provide you with excellent service since they earn a commission on your policy. In case your agent is not reachable, you can approach your servicing branch with your policy papers. The branch will verify your details and provide you with the necessary information.
In conclusion, checking your LIC policy status is essential to keep track of your policy and ensure that you do not miss any premium payments or benefits. With several options available, you can choose the one that suits you best, be it through SMS, phone, online, or by visiting your nearest LIC branch or agent. Regularly checking your policy status is an excellent way to stay informed about your policy's current status and make informed decisions about its future.
Also Read: Branch Address of your city