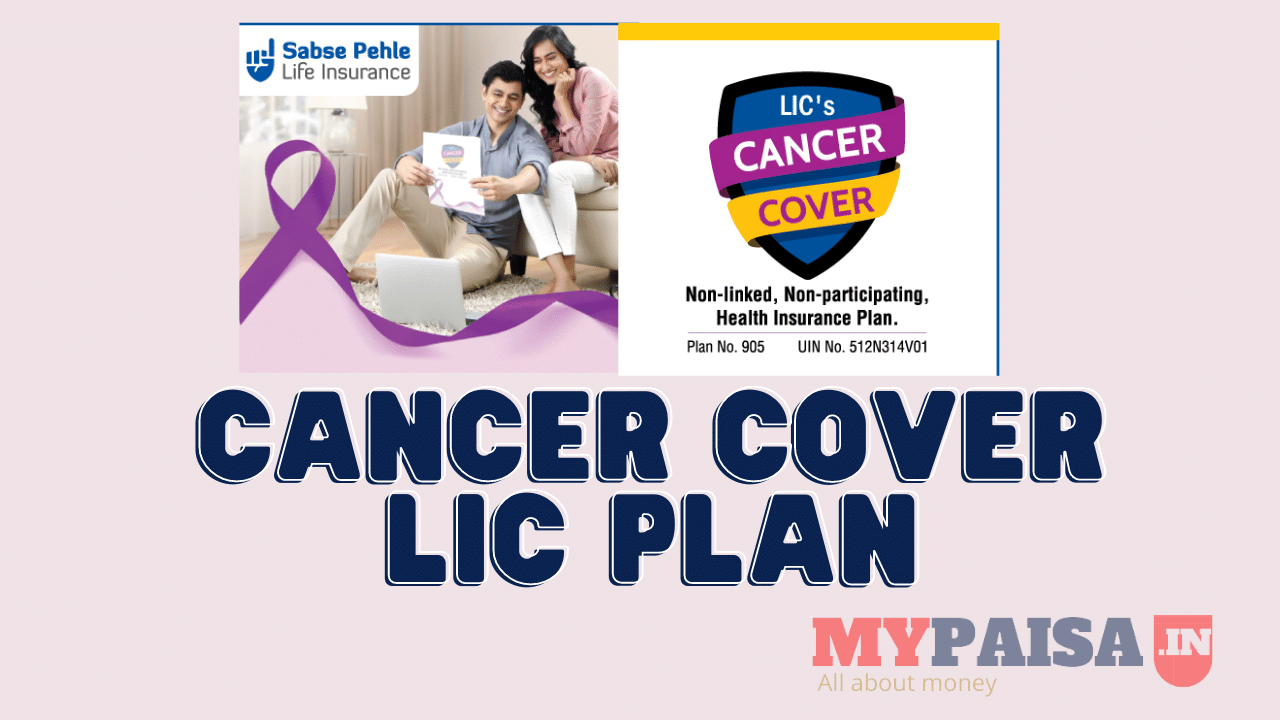 LIC Cancer Cover Plan No. 905 Features & Details:
LIC has introduced a new plan specific to cancer care. Cancer Cover Plan No.905 is a non-linked regular premium paying Health Insurance plan. This scheme provides fixed benefits on cancer detection of the first stage and second stage.
Benefits of LIC Cancer Cover Plan
With this policy, you will live worry-free from cancer.
Sum assured is available from Rs. 10 lakh to Rs. 50 lakh. There were two options — sum assured and increment of the sum assured by 10 per cent of basic sum assured for the first five years.

Types Of Sum Assured:
Basic Sum Assured
Increasing Sum Assured (10% Increase in Sum Assured Every Year for first 5 years)

Types Of cancer Covered
First Stage or Early Detection
The second stage or Major Stage
On Early Detection of the First stage
25% of Basic Sum Assured payable
3 Years premium will be waived off
On Major Detection
Option 1:
Option 2:
% Applicable Sum Assured per month for next 10 years irrespective of Live or death
All future Premiums waived off.
LIC Cancer Care Eligibility Conditions
Entry Age: 20 Years – 65 Years
Policy Term: 10 Yrs – 30 Years
Cover Ceasing Age: 50 Yrs – 75 Yrs
Basic Sum Assured: 10 lacs to 50 lacs
(Note: Subject to an overall limit of 50 lacs taking all existing critical illness cover policies including cancer cover and new proposal under consideration Payment of Claims by Claims Dept of LIC (Not by TPA)
Minimum Premium 2400 for all modes
Waiting period 180 days
Tax Benefits:
Keep in mind this is a special plan and hence you will get:
No Surrender Value
No Loan on Policy Applicable
No Maturity value
No Mode Rebate
Due to the rise in cancer cases, this policy will safeguard your life against unexpected Cancer disease.
Example: Mr. Avinash Aged 25, opts for Cancer Care Plan for 10 years for 10 lakhs Sum Assured. After 2 years Avinash diagnosed with early cancer detection. LIC pays 2.5 lakh to Avinash as 25% Basic Sum Assured of 10 lakhs. Also, Avinash gets 3 years Premium Holiday. So he does not have to pay a premium for the next 3 years.
If Avinash Diagnosed again with the second stage within the policy period he will also get the rest of BSA (7.5 lakh as he already received 25% benefit earlier) and all future premiums will be waived off.
In another scenario, If Mr. Avinash Does not diagnose with cancer throughout the policy term, He will not get any maturity benefit.
Share this policy on with others so others can also take benefit of this scheme.